© Bellerode. all rights reserved | site by bushwizard it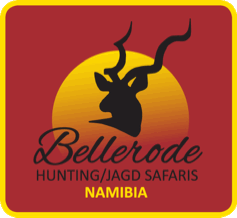 HUNTING ON BELLERODE
Namibian hunting season stretches from 1 February until 31 November.
We will organise all the preparation of trophies and the transport to a Taxidermist, who will have the necessary veterinary dipping and packing procedures in place and will also do the shipping to your country.
If you are interested to see our beautiful country after your hunting safari, we will gladly assist you with a guided tour to our sought after destinations around Namibia. Let us know what you are interested in and we can give you a full quotation on the trip ahead.
Minimum 7 hunting days for Oryx, Hartebeest, Kudu, Springbuck and Warthog.
Minimum 10 -14 hunting days for more than the above trophies and additional species.
Accommodation and all meals are included in the daily rate. (only including local beer, local wine and non-alcoholic beverages)
Daily laundry service available.
Professional Hunter with 4x4 vehicle
and trackers/helpers are included in
the daily rate, gratuities are not
included.
Preparations of the trophies and
delivery to the Taxidermist are
included in the trophy price.
Rates include VAT and Bed Levy